Our History
In the city or in the countryside, concentrated or ready to drink, in glass or plastic ... the Fruito is everywhere! Here is the incredible journey of the women at the head of the pioneer of the Burundian agro-food industry. Behind her slender waist and petite physic, hides a surprising woman with her dynamism and an unparalleled will.
" Everything is possible ! Where there is life, there is hope " simply pointed out by Marie Muque Kigoma.
The birth of Fruito? "A terrible desire for a better life and earn more," says Kigoma. Nurse at Prince Louis Rwagasore Hospital and wife of a lawyer, the end of the month were rather difficult for the Kigoma family. In order to make ends meet, she imagines entering into an independent nursing career and does not hesitate to resign in 1983 to embark on her new career journey. But the ministry of health is holding back her ambitions. "There are no laws governing home nurses! she is told.
No longer working, she finds another part-time job at the US embassy. To fill her afternoons, she goes to Bugarama several times a week to buy her fruits and vegetables. And this is where the idea is born: "Why not make syrups with all these Passioon fruitd? " From her kitchen to the company
The first trials of syrups begin in her kitchen. Syrups that she puts in bottles of empty whiskey and sells it in grocery stores and nightclubs. A first in Bujumbura, a revolution in Burundian habits. "Fruit was rather reserved for children and sick," she laughs. Her success is such that she soon finds no more bottles of whiskey. But Ms. Kigoma will not give up..
It is her husband, the late Joseph Kigoma, who finds her a ready-made solution: "VERRUNDI" (the glass factory of Burundi). At the end of 1985, the production is 200kg of maracujas a week, and the Bugarama sellers had trouble meeting this demand. That's how she starts buying fruit in other provinces, from Bukeye to Kayanza. In 1987, Ms. Kigoma decided to move up a gear. No more production in her kitchen.
She took a loan at the National Bank of Economic Development (BNDE) over 5 years, professional production equipment designed specifically for Fruito from Montpellier, followed by a three-week training by a French company. Her juice is appreciated by everyone. "During the official ceremonies, the elected officials were proud to offer my juice," says the charming lady. In short, a personal but also a national pride. The crisis of 1993 was a blow for the flourishing business. More electricity cuts, roads going to Bugarama are cut, credit to the bank ... finally in 1995, Fruito puts the key under the mat and the Kigoma family exiles in Uganda until 1998.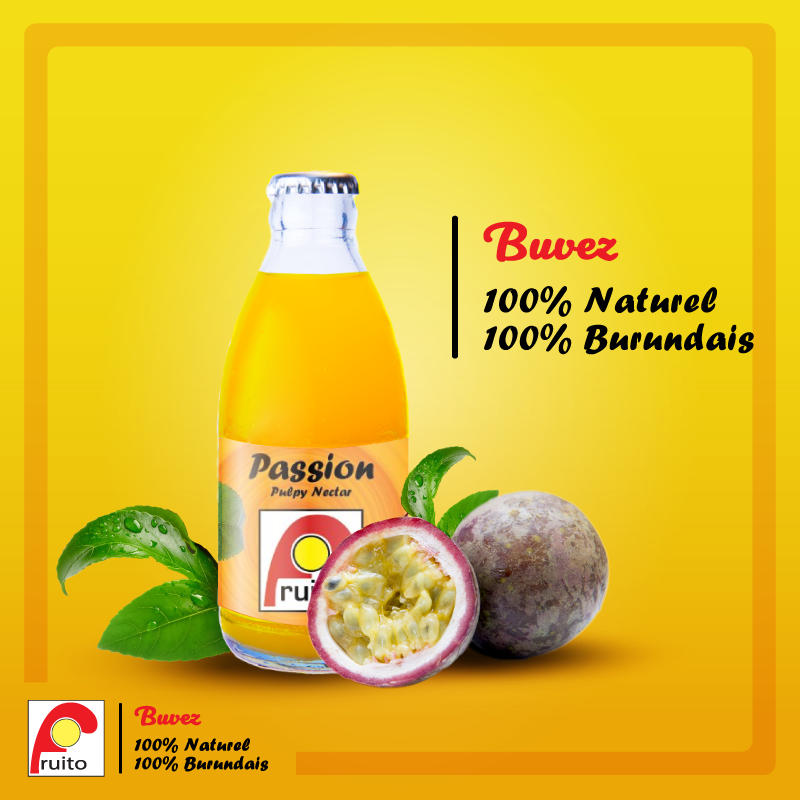 The Renaissance
"All the workers came back as soon as they knew we were back home," says Kigoma. And only a week after their return, the company reopened. "That's where I realized the trust I had built with my workers and suppliers was very important," she says. Today, Fruito employs 80 people, not to mention the chain of passion fruit sellers. The only downside, says Ms. Kigoma, is the lack of state support for the sector, which is very important in a 90% agricultural country. Had it not been for the $ 250,000 interest-free credit she received from a US foundation (African Development Foundation), the company would have closed. The elegant boss of Fruito also deplores the increase in VAT and taxes on consumption (25% between them) which slows production, as well as unfair competition: "Our sales fell by 30%" she regrets .But beating, Marie Muque Kigoma does not despair "I have faith in life! ". It is also to give her a boost that the 2nd Vice-President offered her a plot, in order to expand the plant and compete on the regional and international market.